River City Express
The Full Whanganui Steam Experience - 25th February 2024
Welcome aboard...
Bring the family up into the beautiful town of Whanganui hauled by steam locomotive Ja 1271! Choose between a self-guided tour of the town or a serene cruise of the Whanganui River onboard the coal fired paddle steamer, Waimarie.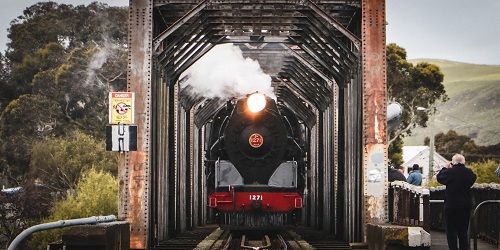 Leaving Kapiti as most others are still sound asleep, we quickly escape the coast and delve into the rurality of the Horowhenua. After stops in Shannon & Palmerston North we head up the trunk through the townships of Feilding and Marton before turning onto the Marton - New Plymouth railway line for the last stretch into Whanganui. After crossing the 290km long Whanganui River, we proceed slowly down the short 5km stretch of track taking us to Taupo Quay. This journey is a return trip, so don't stress, let Steam Incorporated take you home too!
Choose one of the following options to maximise your experience:
1 - Sail on the Queen of the River
Salvaged from the bottom of the Whanganui River where she sat for around 50 years, the Paddle Steamer Waimarie was restored to her former glory and re-launched in 2000. She is now the only one of her kind in operation in New Zealand.
Your cruise leaves the Riverboat Centre Wharf and heads upriver taking in the scenery and views of Whanganui which can only be experienced from Te Awa Tupua, the Whanganui River. The commentary shares riverboat history and points of interest along the way. Check out the boiler that powers our paddle steamer, and maybe meet the homing pigeons and send a message with them on their flight back to the Riverboat Centre.
$40pp if you wish to add the cruise to your agenda for the day. Buses will depart from Eastown and take you directly to the Waimarie departure point and return you back to the train after the cruise.
2 - Self-Guided tour of the town
Buses will transport you from your arrival at the station into the heart of Whanganui.
There are multiple places to go, and things to see. Take a tram ride for a small fee and arrive at the Riverboat museum, be blown away by NZ Glassworks, admire the sculptures and views from the Motua gardens along the river, indulge in local cuisine, or simply shop local.
This is all at no extra cost. The bus fares are included in your train fares.
Pricing:
Adult Fare ex. Kapiti/Horowhenua & Return - $149.00
Child Fare ex. Kapiti/Horowhenua & Return - $79.00
Adult Fare ex. Palmerston North/Feilding & Return - $79.00
Child Fare ex. Palmerston North/Feilding & Return - $49.00
Optional Extras:
PS Waimarie 1hr River Cruise - $40.00 pp
Evening Meal (delivered to the train on our return journey) - $30.00 pp
---