The Semi-Circle Rail Cruise
Travel with Steam Incorporated on this special pre - Christmas rail excursion for an easy and relaxing outing!

Sunday 3rd December 2023
Join Steam Incorporated on this unique day out!
The train will run from Wellington, heading north along the western coastline picking up passengers at Porirua, Paekakariki, Paraparaumu, Waikanae, Otaki, Levin, Palmerston North, eventually travelling through the Manawatu Gorge and Woodville before terminating at Pahiatua. The train will return you home later that evening.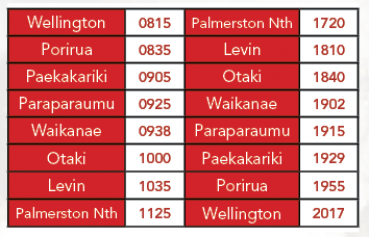 As part of your semi-circum-navigation of the Tararuas, there are plenty of options to make your day that little bit more interesting! Choose one of the following:
Disembark the train at Woodville, and travel by coach to Mangatainoka's famed Tui Brewery for lunch. Fast forward to today, and Tui Brewery is now a state of the art brew house that sits pretty in front of a fancy garden bar where punters can enjoy a refreshing beverage under the iconic Tui Tower. Sit down in 'The Flagon Room' and enjoy a classic kiwi BBQ feed - consisting of glazed chicken wings, marinated steaks, gourmet potatoes coleslaw and dinner rolls! This meal is an additional $45pp on top of your train fare.
Travel on the train down as far as Pahiatua, and travel by coach down to the Mauriceville Fair. This is probably Wairarapa's most scenic reserve. It is the closest you'll get to a country fair, attractions include live musical performers, vintage cars and vintage machinery, Clydesdale horse and carriage rides, helicopter rides, children's magician, quick fire raffles and the usual huge variety of stalls selling crafts, food, and other country goodies. $10 per Adult, $5 per Child including bus transfers to and from Pahiatua and Mauriceville.
For the true rail fans! For the full rail experience, travel on the excursion train right round to Pahiatua, and then travel onboard PRS's Standard Railcar RM 31 between Pahiatua and Woodville & return. Vintage Railcar RM31 will operate two shuttles from Pahiatua to Woodville, and return whilst the excursion train is sitting in Pahiatua. RM31 is one of six built by the Hutt Workshops between 1938/39. PRS's workshop facilities will also be open for viewing. This shuttle train is an additional $49pp on top of your train fare.
A relaxing day out with Steam Incorporated, great for an early Christmas present for the family, your mates or your work collegues! We can cater for larger group bookings - these are best dealt with directly through us by emailing bookings@steaminc.org.nz or contacting 0800 783 264.
Adult train fare ex Wellington, Porirua, Paekakariki, Paraparaumu, Waikanae: $169, Child $99.
Adult train fare ex Otaki, Levin, Palmerston North: $119, Child $69.
Additional charges apply for off-train excursions.
Book online or call 0800 783 264 to book directly with the team!
---