A1868
Information on 1937 era 56' carriage A1868.
Running number: A1868 (TMS was AS56073 and AL56095)
Designed by: New Zealand Railways
Built at: NZR Otahuhu workshops
Date built: 1937
Builders diagram:
Date entered service:
Date withdrawn: Disposed of by KiwiRail 2013
Current condition: Under restoration by Steam Inc.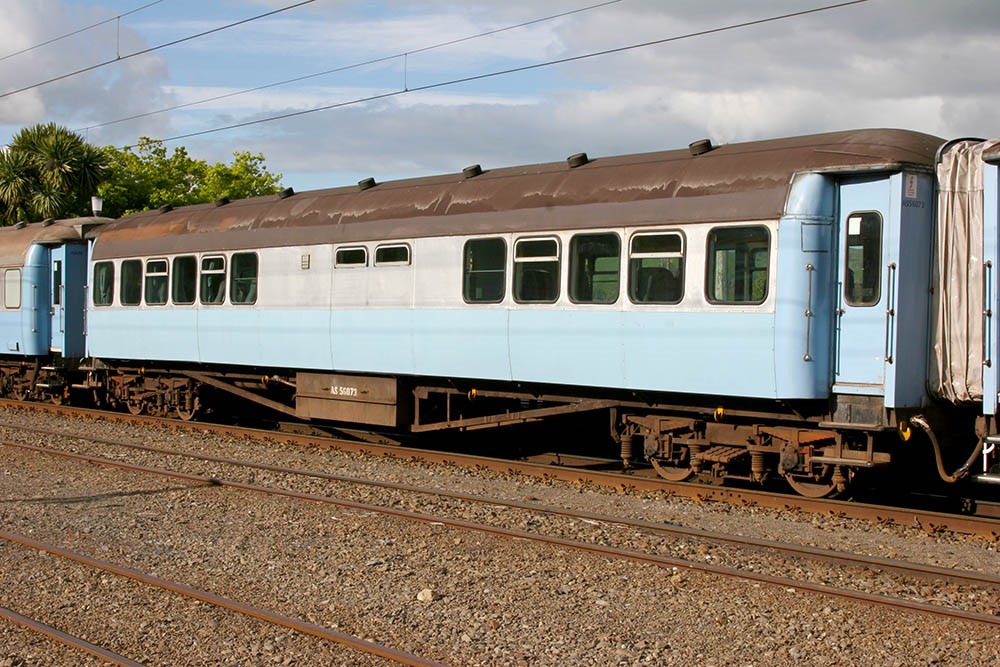 Image: AS56073 at Taihape in 2008. Photo John Bovis
Carriage details
Weight in working order: 25 tonnes
Overall Length: 17933mm
Bogies: 25330
History
A1868 was built at the Otahuhu Workshops in 1937. Originally built as a 2nd class car for North Island express train service and allocated to Wellington. In 1984 was reclassified as an AL car for Auckland suburban service as AL56095.
In 1997 was rebuilt into a servery car for use in the Auckland charter fleet. This rebuild was performed by Babcock New Zealand at the Devonport naval dockyard. This included fitting a centrally located servery area with table seating at each end plus the fitting of HEP. Table seating is 2x1 giving a total of 24 seats at tables.
Its last use in KiwiRail charter service is likely to have been in 2011/2012.
It arrived at Paekakariki by rail on Sunday 30th June 2013. On arrival was initially stored but is now well into an overhaul. Our expectation is that it will be main line operational during 2024. We expect to use it as a café car.
---