A1902
Information on 1938 era 56' carriage A1902.
Running number: A1902 (TMS was 56156)
Designed by: New Zealand Railways
Built at: NZR Otahuhu Workshops
Date built: 1938
Builders diagram:
Date entered Steam Inc service: 2015
Date withdrawn: Disposed of by KiwiRail 2013
Current condition: Certified for running on the main line.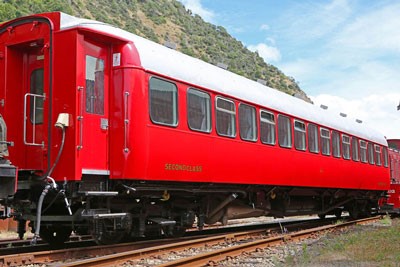 Image: A1902 side view.
Carriage details
Weight in working order: 25 tonnes
Overall length: 17933mm
Bogies:
History
It was built at the Otahuhu Workshops in 1938. Originally built as a 2nd class car for North Island express train service and allocated to Wellington.
By 1981 it was allocated to Auckland for suburban service as A56156. In early 1988 it was refurbished at the Addington Railway Workshops for the new Kiwi Lager Ski Express venture. This was a weekend winter service from Auckland to Ohakune that ran for 2 seasons. For this it was painted in a dark green and white scheme with Kiwi Lager, Radio Hauraki and Ski Express logos. It continued in charter service after the ski train finished running.
In 1992 it was renumbered to A2317 and by August 1992 it had been repainted in the dark blue scheme with yellow waistband. In August 1993 it was temporarily assigned to the South Island to replace the cars damaged in the Rolleston level crossing smash. In 1996 it was renumbered back to A56156.
In Dec 2006, along with four other charter cars, it was sent to Wellington to help out on the Wellington to Masterton services until the new SW cars were all in service. It returned to Auckland charter service late in 2007. Its last use in charter service is likely to have been in 2012.
It arrived at Paekakariki by rail on Sunday 30th June 2013. Received main line certification at the start of March 2015 and ran its first trip for Steam Incorporated on the Mangaweka Express on 7th March 2015.
A new feature for Steam Inc cars is that it is fitted with table seating which is proving very popular with our guests.
---