A1933 (AO221)
Information on large window observation car carriage rebuilt from A1933.
Running number:A1933 (TMS 3212 then AO221
Designed by:New Zealand Railways
Built at:NZR Addington railway Workshops
Date built:1939
Builders diagram:
Date entered Steam Inc service:
Date withdrawn:Disposed of by KiwiRail 2018
Current condition:stored complete.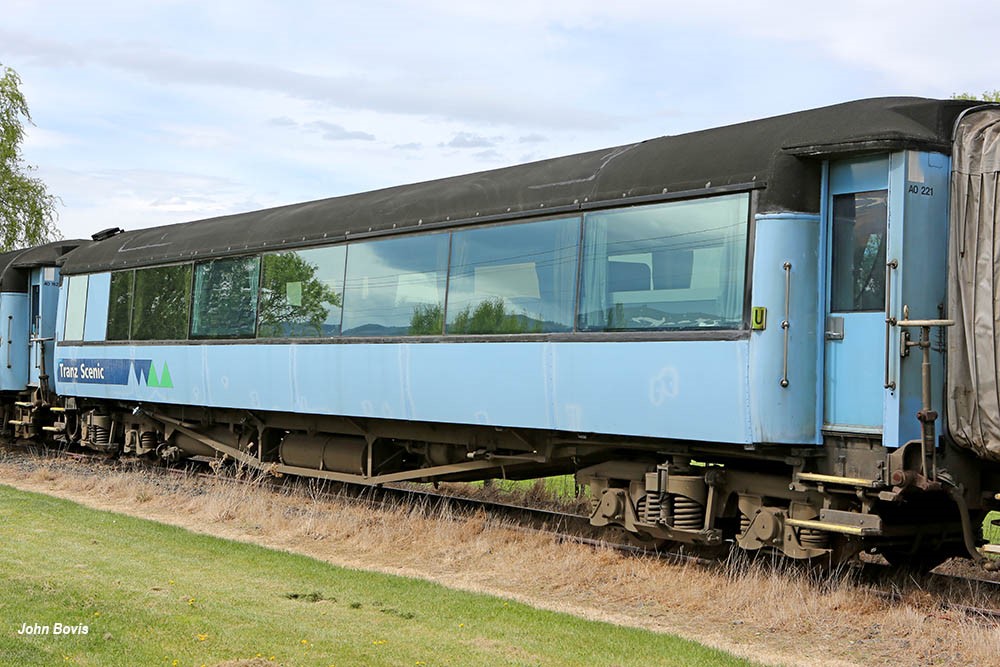 Image: AO221 stored at Middlemarch.
Carriage details
Weight in working order: 25 tonnes
Overall length: 17933mm
Bogies: Original 25330. Current 28020.
History
56' First Class Coupe Day Car
A1933 was built at the Christchurch Addington railway workshops.
It was in a batch of seven cars that had a six seat compartment that could be reserved for private on family parties. Total seating was for 35 passengers.
When built was allocated to Christchurch for use on SIMT services between Christchurch and Invercargill.
In 1970 A1933 had a major refurbishment for use on the new Southerner service that commenced in December 1970 running a modernised daylight express between Christchurch and Invercargill.
In 1988 now as TMS number A3212 was modified at Addington for use on the revised overnight Northerner service running between Auckland and Wellington. Recliner fixed non reversible seats were fitted. Seating capacity was now 45.
In November 1994 A3212 had a major rebuild by Babcock New Zealand at the HMNZ Dockyard, Devonport into a large window observation car for the Coastal Pacific service between Christchurch and Picton. It was now reclassified as AO221.
AO221 was eventually replaced on the Coastal Pacific by the new AK carriages and then used as required in the Christchurch based charter fleet. After KiwiRail decided to no longer operate the AO/ASO type cars the surplus cars were sent to Middlemarch in 2015 for long term storage. AO221 was eventually disposed of by KiwiRail in May 2018.
AO221 Arrived at Paekakariki in Sept 2018 and is currently stored complete awaiting eventual overhaul.
Thanks to Juliet Scoble and John Bovis for this information.
---