A1942
Information on 1939 era 56' carriage A1942.
Running number:A1942 (TMS was 56453)
Designed by:New Zealand Railways
Built at:NZR Otahuhu workshops
Date built: 1939
Builders diagram:
Date entered service:
Date withdrawn:Disposed of by Tranz Rail 1996
Current condition: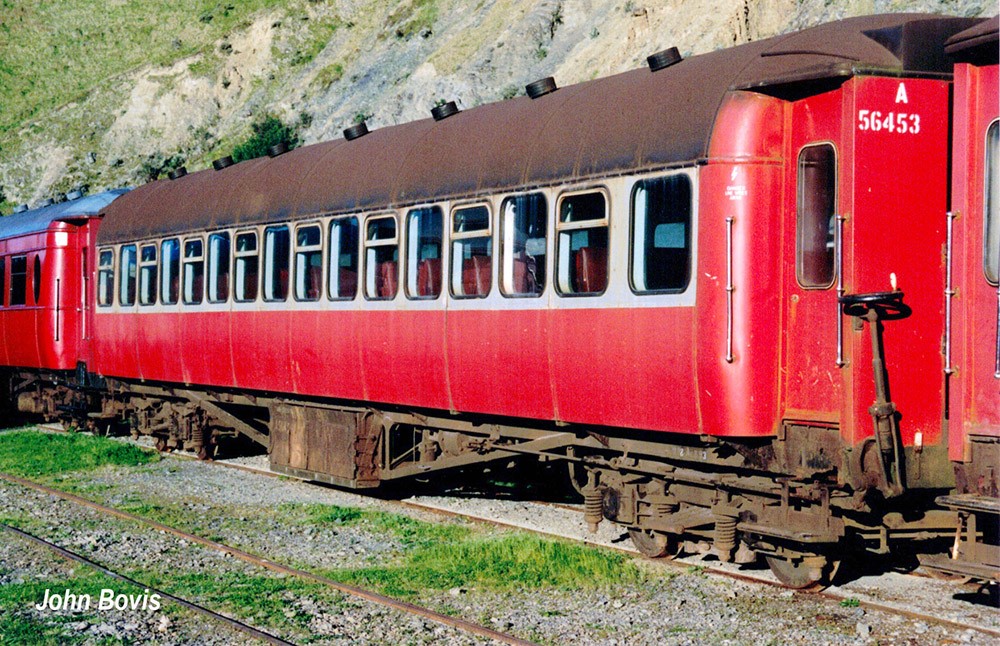 Image: A1942 at Paekakariki.
Carriage details
Weight in working order: 25 tonnes
Overall Length: 17933mm
Bogies:
History
A1942 was built at the Otahuhu Workshops in 1939 as a standard 2nd class 56' car with 56 seats and two toilets. When built it had been ordered for Auckland Taneatua services. By 1948 it had seen service on the Auckland to Opua route.
1942/ 56453 was withdrawn from service in March 1979. However 56453 was saved by being converted to a 62 seat suburban car at Otahuhu for Auckland services in September 1979.
By 1996, 56453 was stored out of use at Westfield. 56453 along with nearly twenty other similar cars and vans was eventually put up for tender in early 1996. This large carriage sale along with 1942 also saw AL1917 and A1989 head to Paekakariki.
At Paekakariki some restoration work has been performed on 1942 but is currently stored.
---