Aa1265
Information on 1912 era NZR carriage AA1265
Running number:Aa1265
Designed by:New Zealand Railways
Built at:NZR Newmarket workshops
Date built:1912
Builders diagram:4440
Date entered service:October 1912
Date withdrawn:August 1977
Returned to heritage operation:1981
Current condition:Certified for main line running.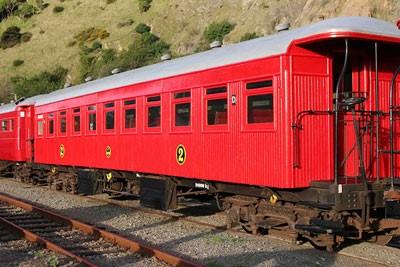 Image: Aa1265 side view.
Carriage details
Weight in working order:29 tonnes
Overall length:52 feet 6 inches
Bogies:X25140 with SKF roller bearing axleboxes.
History
Aa1265 started life as one of a batch of 12 second class Main trunk cars built at the old Newmarket Workshops in Auckland. With two passenger compartments, a centre toilet and gas lighting, it would have been very similar to many others built in the first 20 years of the last century. In 1927 the vehicle returned to Newmarket, was rebuilt as a 30 seat first class car with the new steel anti-collision ends and returned to the Main Trunk for a short while.
The following year it was re-built yet again, this time to emerge as the North Island General Manager's car. In this guise it was fitted out at one end with a lounge and end viewing windows. At the other end was an office, kitchen and toilet compartment. In between were a double berth and a single berth compartment. When it returned to service it was painted in the new "Crimson Lake" colour scheme that had replaced the long standing NZGR "Pullman Green" livery. One unique addition was a system of under-floor water tanks that used air pressure to raise the water up to the body. This water reticulation system was retained for the rest of the vehicle's service on NZR and was what brought the vehicle to the Society's notice when it was withdrawn. All the other balcony ended cars had water tanks in the roof space over the toilets. In 1933 the vehicle was fitted with the then new and very modern X.25140 SKF roller bearing bogies.
By 1934 a new General Manager's car was built and Aa1265 was rebuilt yet again, this time appearing as a two compartment second class car with plain bearing bogies; very similar to how it was originally built. At some stage, probably late forties or early fifties she had another rebuild. This time with just the one 51 seat passenger compartment and an end lavatory. In this state it continued in use for the remainder of her NZR career, mainly on Wellington suburban trains, until written off in August 1977.
Purchased by Steam Inc in the October it was towed to Paekakariki with Aa1030 and restoration commenced in 1980. In April 1981 Aa1265 re-entered service in the Society's standard Chocolate Brown with yellow lining and commenced it's fourth career, this time as part of an excursion train. Some 10 years later when the national railway system had adopted a blue livery for their passenger vehicles Aa1265 was re-painted, in line with the Society's policy, in the original NZR "Crimson Lake" livery.
Thanks to Reid McNaught for this information.
---