Aa1618
Information on 1927 era ex sleeping car AA1618
Running number:A1618 (TMS was 56006)
Designed by:New Zealand Railways
Built at:NZR Addington workshops
Date built:1927
Builders diagram:25480
Date entered service:1927
Date withdrawn:Sold by Tranz Rail Oct 1982
Returned to heritage operation:1984
Current condition:Certified for main line running.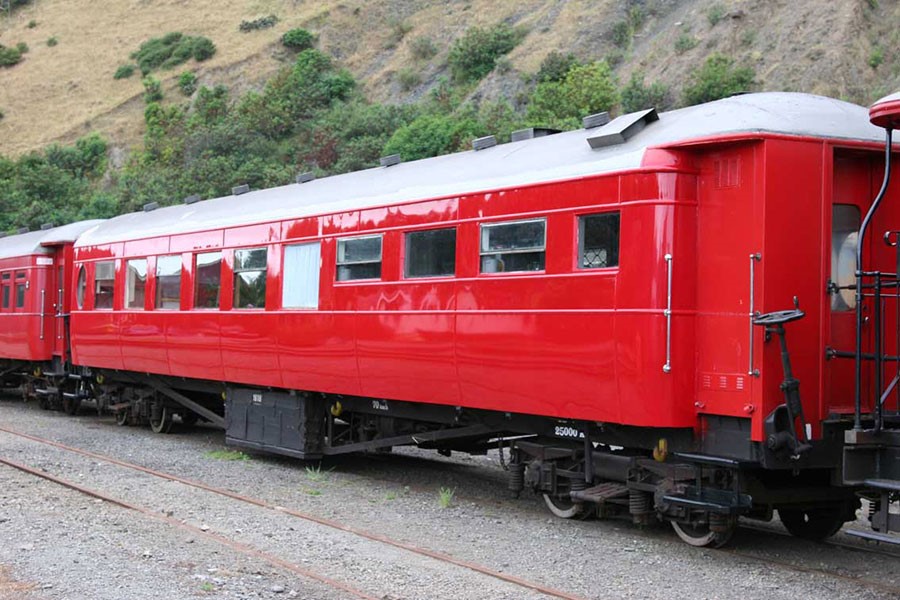 Image: Aa1618 side view.
Carriage details
Weight in working order:25 tonnes
Overall length:17933mm
Bogies:Originally 25140, now 25330.
History
Built in 1927 at Petone railway Workshops, Aa1618 was one of four pioneering vitron enamel steel panelled 56 foot long, 9 compartment/18 berth sleeping cars constructed that year. Along with the prototype 56 foot sleeper Aa1616 built two years earlier at Addington Workshops under the direction of chief mechanical engineer G.S.Lynde (albeit with wood sheathed sides, but later converted to steel panels) for use and display at the Dunedin Exhibition in 1925-1926, these five cars were fascinating examples of the twenties era carriage building art. Featuring more spacious sleeping compartments, electric lighting and enclosed end vestibules these original NZR 56 foot cars represented a major advance in sleeping car appointments and comfort as compared to the 1919-1913 vintage 50 foot sleeping cars built shortly after the completion of the North Island Main Trunk. However displaying some associations with the 50 foot cards from which they evolved, these 56 foot long sleepers were built on extended 50 foot frames with type 25140 bogies mounted inboard with standard 37'6'' bogie centres that gave these longer cars a somewhat inboard bogie look.
Assigned to overnight Wellington to Auckland services, Aa1618 and her kin well served the NZR and travelling public alike for the decade after. Following the introduction in 1938 of P.R.Angus's standard 56 foot passenger fleet and a new series of more modern sleeping cars, cars 1616, 1618 and 1620-1622 remained in regular North Island service supplementing the latter cars as demand warranted on both main trunk an regional overnight services.
Changes were in the wind though as between December 1940 and August 1943 all 5 cars received new frames with 42 foot bogie centres and type 25330 Timken bogies at Otahuhu Workshops.
In addition the five cars were fitted with small kitchenettes reducing their capacity to 16 berths.
The most significant change though occurred to car Aa 1622 which was selected as the test carriage to evaluate improved riding quality. Thus in the height of the war years sleeper 1622 emerged from Otahuhu Workshops in June 1941 fitted with a pair of experimental type 25855 bogies, based on the existing 25330 model, but with extensively altered springing and dampening mechanisms. Some thirty years later thee NZR unique bogies were the basis for the Asian sourced 28020 bogie that became the railways principal intercity service bogie as fitted to most KiwiRail passenger cars today.
With the end of war hostilities, the five sleepers continued to be used as required through the remainder of the decade and through the 1950's. However with the decline in long distance passenger services and substitution of new "Drewry" railcars for many of those remaining, substantial numbers of former intercity carriages were put into storage, or simply written off the books for scrapping. Sleeping car Aa1620 was the first to go, being stricken from the roster in October 1977. and subsequently scrapped. Car Aa 1622 was similarly disposed of in late 1977, although this carriage still configured as a sleeping car and fitted with her experimental 25855 bogies, was sold to the Auckland based Railway Enthusiast Society for possible excursion train use. Regrettably though the car was stripped of the entire body except for the steel anti collision ends, and today only exists as a frame and running gear.
The other three cars, Aa's 1616, 1618 and 1621 survived into heritage ownership. This was probably due to the fact that they were rebuilt in the early 1970's to 64 seat suburban carriages (our car Aa1618 being returned to service in her second career in April 1972). Class leader 1616, and 1621 were written off in June and August 1981respectively and subsequently sold to the New Zealand Army for use at their Hopuhopu base near Ngaruawahia for reportedly antiterrorist training! Eventually Aa's 1616 and 1621 found their way to Pukeoware on the Glenbrook Vintage Railway in 1986 for possible restoration. Meanwhile Aa1618 went onto better things.
Based in Wellington as part of the capital's "subby" fleet, this 1927 graduate from Petone Workshops was last used by the NZR on the 4pm Paekakariki carriage train on 7th August 1982, and subsequently written off later that month. Purchased by Steam Inc. shortly after in October 1982 and used a few times in excursion service, Aa1618 began her third career with its selection to become our now well known buffet/souvenir/crew car in 1984.
Steam Incorporated is indebted to the late John Herbert and the late Reid McNaught for providing information contained in this feature.
---