Aa1769
Information on 1932 era ex first class carriage AA1769
Running number:Aa1769
Designed by:New Zealand Railways
Built at:NZR Otahuhu Workshops
Date built:1932
Builders diagram:25175
Date entered service:October 1932
Date withdrawn:June 1981
Returned to heritage operation:1984
Current condition:Certified for main line running.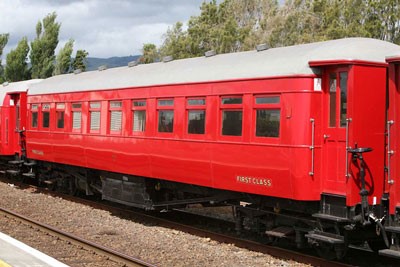 Image: Aa1769 side view.
Carriage details
Weight in working order:24 tonnes
Overall length:52 feet 6 inches
Bogies:
History
This carriage was built in 1932 at Otahuhu as a First Class car, the sole survivor of its group of twenty 50 foot, steel panelled, wide bodied vehicles. These cars had eleven windows on each side, as compared to the second class cars that had thirteen.
As built, Aa1769 had seating for 29 passengers and toilet compartments at both ends. Originally it rode on SKF 25140 roller bearing bogies. These were later replaced with 25330 bogies. For its entire NZR working life it was assigned to the Wellington District, originally for use on Main Trunk and provincial expresses. After an overhaul at Otahuhu in 1944 Aa1769 emerged with anti collision vestibule ends, new Timken bogies and alliance automatic couplers.
With the introduction of the Drewry railcars in the 1950's the need for express passenger carriages was greatly reduced. Thus in 1959 Aa1769 was converted to a 44 seat second class car for occasional use on relief expresses but mainly for suburban work. After having been laid up for some time and having lost much of its seating and window glass, it was written off in June 1981. Bought by Steam Incorporated in July 1981, it was moved to Paekakariki for extensive restoration work. This included the fitting of a new set of wooden framed windows (matching our open platform wood clad cars) which now make Aa1769 a rather unique vehicle. Steam Incorporated first used this car on an excursion in 1984. It is a popular car with its smart finish and generous seat spacing.
---