Da1431
EMD Diesel Locomotive.
Locomotive road number: Da 1431

Designed by: General Motors, Electro-Motive Division, La Grange, Illinois, USA, in association with the Clyde Engineering Co. Pty. Ltd., Granville, NSW, Australia

Built by: Clyde Engineering Co. Pty. Ltd., Granville, NSW, Australia

Date built: 1957

Builders Number: 57/135

Builders Model: G12A

Date entered NZGR service: April 1957

Renumbered to DA 345 with the introduction of TMS numbering system in 1979

Written off NZRC books in April 1988, with ownership transferred to Steam Inc

Began excursion operation (along with DA 126) in September 1988
Image: Da1431 at Paekakariki
Locomotive details
Main line registered to run on the KiwiRail tracks.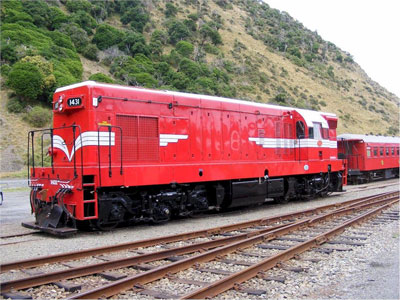 After many years of being used to haul Steam Inc excursions, Da1431, along with Da1410 was leased to the Glenbrook vintage Railway for use on their line and their main line train trips. Da1431 eventually returned to Paekakariki in August 2008 for an extensive overhaul that took three years to complete. Da 1431 was recertified for main line use in 2011. It has since travelled around much of New Zealand. Along with Readers Rail Tour charters to Taranaki, Hawkes Bay and Whangarei in the North Island has also been used on our own rail tours to Gisborne, Kopuawhara and Kapuni. Plus many more mor local journeys such as the Grand Circle Rail Cruise and the Deco Delights trains. In the South Island 1431 has covered the West Coast from Hokitika to Westport. More recently Da1431 ventured as far south as Invercargill while hauling some secors of the Great Southern Steam Train Tour.
There is currently a small team dedicated to maintaining and operating this and our other society owned Diesel Locomotives, If you would like to join the team contact Peter Steer on 021 120 3786 or pop into the depot on any Saturday.
Da1431 Photos - More photos can be found at: www.flickr.com/photos/gmpower
---