Dc4375
EMD Rebuilt Diesel Locomotive. Stored for long term restoration and eventual use on the main line.
Locomotive road number: Dc4375

Built by: Clyde Engineering, Australia

Date built as Dc: Sept 1979

Builders Number: 79/900

Builders Model: G22AR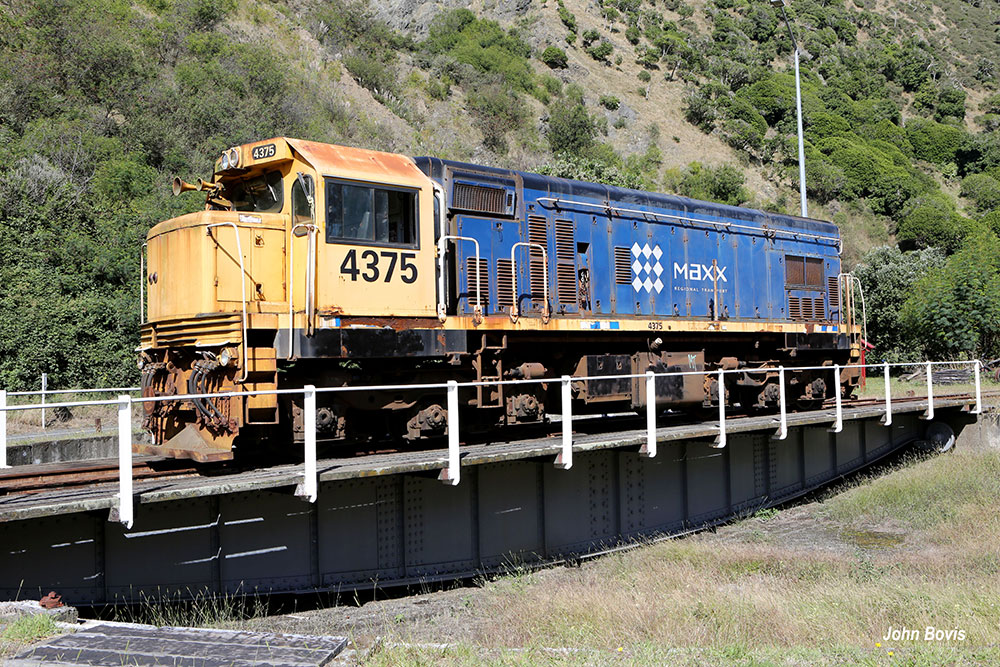 Image: DC 4375 on Paekakariki turn table
Locomotive details
Model: G22AR
Wheel Arrgt: A1A-A1A with EMD "flexi-coil" truck
Driving Wheel Dia: 40 inches
Idler Wheel Dia: 30 inches
Engine: EMD 12-645E
Horsepower (engine): 1650 hp (1230 kW)
Main Generator: EMD D32 with D14 companion alternator
Traction Motors: EMD D29
Air Compressor: Water cooled Gardner-Denver model WBO
Air Brake : WABCO 26L 3 pipe
Total Weight: 82 tonnes
Fuel Tank Capacity: 3640 Litres
Length Over Pulling Faces: 14097mm
History
Our newest main line locomotive Dc4375 arrived at Paekakariki on 1st April 2021.

Dc4375 started life over fifty years ago as G12 Da1540 built by General Motors Canada. In 1979 was rebuilt by Clyde Engineering in South Australia to an EMD G22AR classification emerging as Dc 4375. Initially it was intended to become Dc1585 but the introduction of the new TMS numbering system changed this and entered service as 4375. Initially the small number light panels had 1585 but all other lettering was for 4375. Dc4375 ended its KiwiRail working life hauling Auckland suburban trains.
It was one of many Dc locos that were leased to Auckland Transport for hauling their ex British Rail mark 2 carriages that had been rebuilt into SA and SD cars for the Auckland system. It was repainted into the blue MAXX livery which it still wears. During their early period in service for Auckland Transport some of the Dc locos were named after the wives of board members. Dc4375 was named "Catherine".
With the electification of the Auckland system and the introduction of the AM electric units the Dc locos became surplus and Dc4375 was sent the the Hutt Workshops for storage.
To help cover the purchase cost of this locomotive we have setup a Givealittle page. This page is still active and we would be very appreciative of any donations to this loco. Donate here.
---