About Us
Steam Incorporated is an Incorporated Society, dedicated to the restoration to full working order of ex-New Zealand Government Railways locomotives and rolling stock to provide unique rail journeys on the KiwiRail railway lines of New Zealand.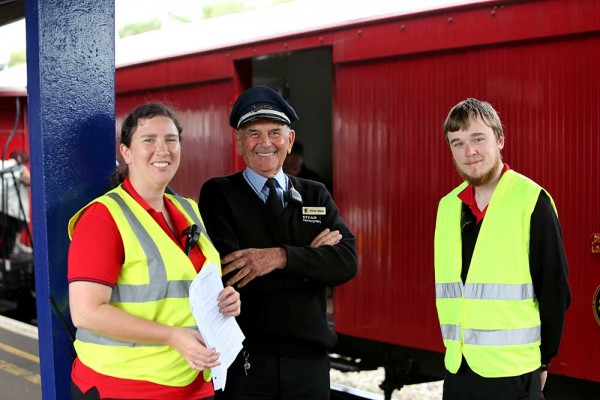 Volunteer guards Charlotte, Terry & Scott
Celebrating fifty years.
Formed fifty years ago in 1972 Steam Incorporated is based at Paekakariki on the Kapiti coast near Wellington, on the North Island of New Zealand, where its primary purpose is to rebuild and maintain heritage railway equipment to the high standard required for main-line operation.
As the name implies, the main focus is on steam motive power, and it is usual for Steam Incorporated to have at least two of its steam locomotives in full operational condition. However, Steam Incorporated also owns and operates heritage diesel locomotives, both on the main line and for shunting duties around the depot at Paekakariki. To be able to operate heritage excursions Steam Inc also had to acquire and restore their own passenger carriages. The society now has a significant fleet presented in a traditional red colour scheme.
The Society prides itself on its ability to accurately re-create complete trains as they used to run in the 1920s to 1960s, through the operation of its vintage wooden and steel-bodied carriages. Steam Incorporated main line rail tours are regularly advertised to the public, and provide the opportunity for young and old alike to experience the magic and nostalgia of steam travel to a variety of events and venues around the country.
In addition to our own directly marketed rail journeys our train and crew are used to run trips for other entities. Regular examples being the Kapiti North Pole Express Christmas specials and the Marlborough Flyer tourist train. Starting in 2022 our rolling stock will be used to run the Sir Edmund Hillary South Island Rail & Coach Tour.
Revenue gained from excursions and depot operations is re-invested in the Society to continue the restoration and maintenance effort.
Steam Incorporated is a registered charitable entity. CC29197 under the Charities Act 2005.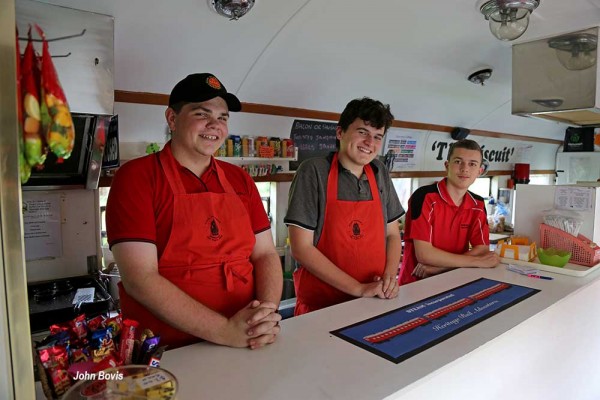 Tommy, Theo & William in the buffet car
---
---