A1928 (AS027)
Information on the first large window observation car carriage.
Running number: A1928 (TMS 33389 then AS2500 and ASO27)
Designed by: New Zealand Railways
Built at: NZR Otahuhu railway Workshops
Date built: 1939
Builders diagram:
Date withdrawn: Disposed of by KiwiRail 2013
Current condition: Stored complete.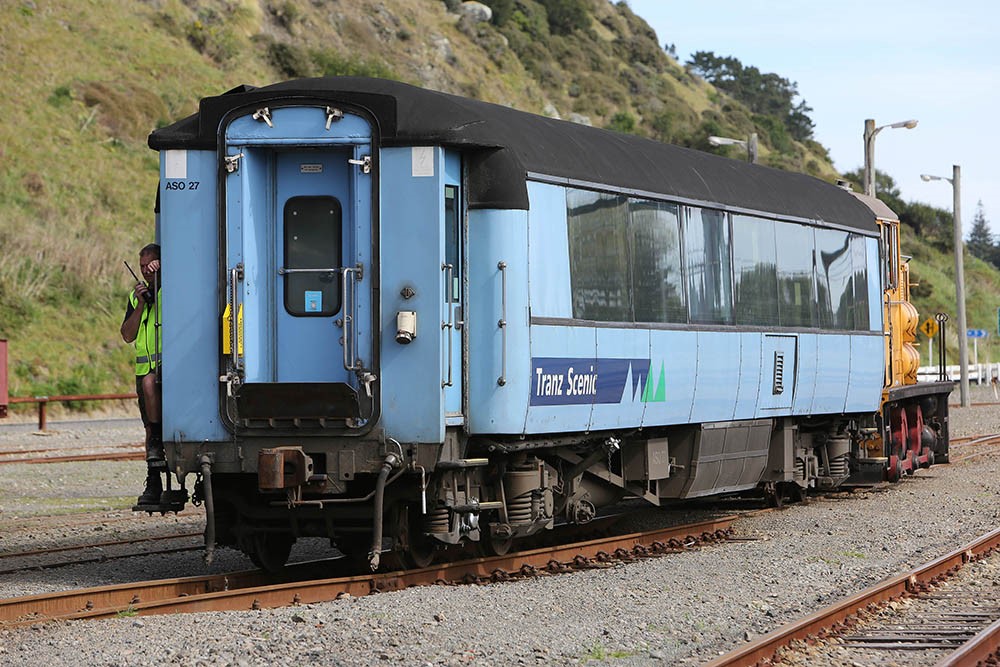 Image: ASO27 after arriving at Paekakariki.
Carriage details
Weight in working order: 25 tonnes
Overall length: 17933mm
Bogies: Original 25330. Current 28020.
History
ex 56' Second Class car.
A1928 was built at the Otahuhu Workshops in 1939. It was one of a batch of thirty second class cars built at Otahuhu in 1938-1939. Initially allocated to Wellington then transferred to Auckland for use on Whangarei services.
In 1942 was converted to the standard one compartment arrangement and still with 56 seats.
In October 1950 at Otahuhu was reseated with a new style of first class seat. Now seating 35 and reclassified as a first class day car. Transferred to Wellington for use on Wellington – Napier – Gisborne express services. From July 1954 was allowed to be used to supplement first class accommodation on the Auckland – Wellington overnight express trains. Transferred to Auckland in 1964.
In 1972 was refurbished at Otahuhu for use on the new Wellington to Napier Endeavour service. Now seating 32 passengers and allocated to Wellington.
Further upgrades were performed at Otahuhu in 1976 including underframe modifications to allow new bogies to be fitted plus new covered gangways.
At Addington in 1981 was fitted with Nu Vent windows and repaneled.
In 1987 A3389 underwent a radical rebuilt at Addington. It was to become the first of many 56' cars to be rebuilt with larger panorama "observation" windows. This involved replacing the existing widows and the surrounding timber framing with a longitudinal steel "ladder ". New large panoramic windows were then glued into this new steel fame. These window modifications were very successful in attracting passengers and saved long distance passenger rail travel in New Zealand. Part of the rebuilding of A 3389 included adding a servery. It was initially reclassified and renumbered AS2500 but by the end of 1987 it had been reclassified and numbered again to become ASO27.
AS2500 was the feature vehicle in the new Tranz Alpine Express inaugurated on 22nd Nov 1987.
ASO27 became surplus when replaced by the new AK cars. It was advertised for disposal by KiwiRail in April 2013. ASO27 arrived at Paekakariki by rail on 13th September 2013 and is currently stored.
Thanks to Juliet Scoble, Peter Ross and John Bovis for the information.
---