Running number:FM1254 (built after TMS numbering introduced)
Designed by:New Zealand Railways
Built by:Daewoo Heavy Industries Ltd, Korea
Date built:1981
Builders diagram:Body W32500, Underframe X29500
Date entered service:1981
Date withdrawn:late 1980's
Began heritage operation:October 2009
Current condition:Certified for operation on NRS.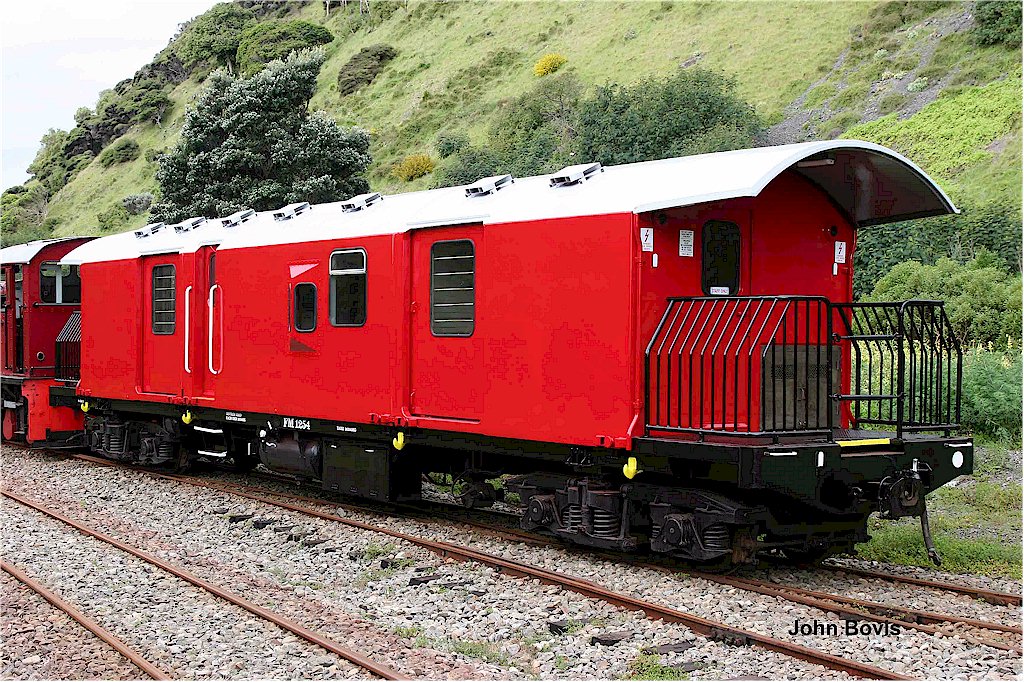 Image: FM1254 side view at Paekakariki.
Guards van details
Weight in working order:30 tonnes
Overall length:15762 (15metres over headstocks)
Bogies:X28020
History
Fm1254 was amongst the last batch of guards vans built for New Zealand Railways. The "Fm" vans were first introduced in 1977 when a batch of 73 vans were built by Mitisubishi Heavy Industries in Japan. A second batch of 50 vans was built in Korea by Daewoo Heavy Industries in 1981. Fm1254 was from the later batch built in Korea.
The Fm vans were of modular construction, hence the "m" in the classification. They had 3 removable modules placed on a very solid underframe. Each van had 2 luggage modules separated by a guards accommodation module in the centre. Each luggage module was rated for 3000Kg of luggage or parcels. The guards module has a seat and desk for the guard, seats for 4 "deadheading" crew, heater, sink, and toilet compartment. These vans had modern bogies similar to those being fitted to the "name" passenger trains of the period.
Additional spare modules were purchased by NZR with the intention of being able to quickly switch modules if any became damaged or needing repair. The objective being that the damaged module could be repaired with out the need to take the van out of service for a lengthy period.
With the removal of guards vans on freight trains (the last one ran in 1987) most of these vans became surplus. Although many carried on in passenger service being rebuilt into Ag power/luggage vans, others in way & works service and some to heritage operators. Bogies from surplus vans were used under most of the ex British MK2 rebuilds to S, SA, & SW cars as well as many other standard 56' passenger stock.
Fm1254 ended up being assigned to Auckland suburban train duties until about 1988. A very short working life! It was rescued in 1989 and stored at the Mainline Steam Parnell depot. It was purchased privately from New Zealand Rail in Sept 1991 and eventually transferred south in 2008.
It arrived at Paekakariki in Nov 2008 and made its first run on a Steam Incorporated excursion in October 2009 to New Plymouth.
The interior of the van is still similar to how it would have been as a traditional guards van. New viewing platforms have been fitted to each end. In the Steam Incorporated fleet this vehicle will be used as a guards/luggage van on tour trains, and as a guards van/viewing platform on trains that do not include our open platform cars.
Thanks to John Bovis for this information.
---