Running number:F524 (TMS F1164)
Designed by:New Zealand Railways
Built at:NZR Otahuhu Workshops
Date built:1930
Builders diagram:Body 4444, Underframe 25053
Date entered service:1930
Date withdrawn:July 1986
Returned to heritage operation:from May 1988 to October 1993
Current condition:Display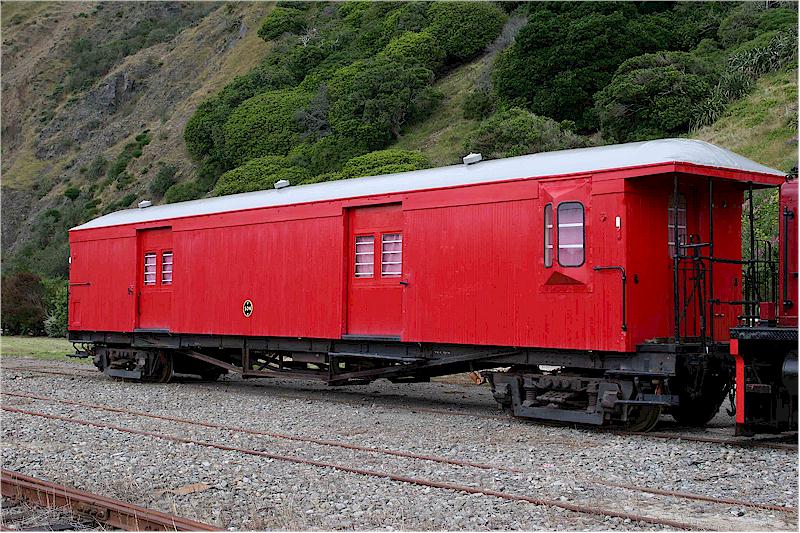 Image: F524 side view at Paekakariki.
Guards van
Weight in working order:
Overall length:52 feet 8 ½ inches
Bogies:7781 six foot wheelbase friction bearings
History
F524 was the last of a group of twelve NZR 50 foot vans built at Otahuhu Railway Workshops in 1930. Nineteen similar vans were built at Addington in 1931-32, and a further two at Otahuhu in 1933. They rode on 6 foot wheelbase friction bearing bogies, and had a 36 foot long luggage compartment capable of carrying 15 ton.
F524 spent most of its working life based in Wellington, but was in Auckland for some time in the early 1980's.
On 2nd December 1984, F524 together with five Steam Incorporated wooden carriages and a De locomotive formed a train which toured the Wellington suburban system. In April 1985, F524 was the penultimate vehicle on the "main Trunk Centennial Excursion" train which travelled from Auckland to Wellington and back, and which marked the return to main-line running of steam locomotives Ka945 and Ja1250.
Written off at East Town workshops in July 1986, F524 was shortly afterwards purchased by Steam Incorporated and moved to Paekakariki. Following extensive renovations it was used on a Deer Farmers charter in May 1988. Later it had a role as part of a demolition train on the Nelson to Glenhope line in the film "Bread and Roses". The filming was actually done at Maymorn on the Wellington to Wairarapa Line.
F524's last main-line trip was on a Steam Incorporated excursion to Gisborne in October 1993, where it was used to carry luggage and supplies.
The vehicle is currently used at Paekakariki to house a photographic display.
Thanks to Reid McNaught for this information.
---