The Spiral Spectacular
A day adventure by train to the Central Plateau!
Sunday 21st April 2024
Join Steam Incorporated and find out to discover what the Central Plateau has on offer. Choose to visit the National Army Museum, take a selfie with the Ohakune Carrot and indulge in a freshly cooked lunch at Osteria, or stick with the train and experience the Raurimu Spiral first hand, hauled by a combination of motive power! It is planned for the train to be hauled by our restored 1950's DA diesel locomotives on the Kapiti to Palmerston North legs, and a KiwiRail EF class electric locomotive on the Palmerston North to Raurimu legs.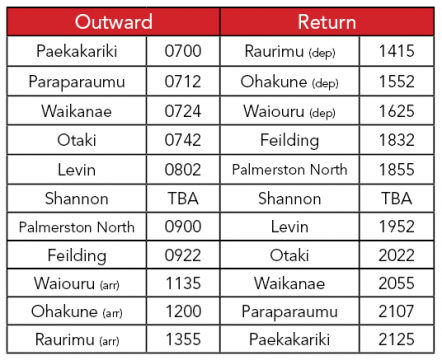 Enhance your Central Plateau experience by choosing one of the following:
1 - National Army Museum
Sitting at the foot of Mt Ruapehu, The National Army Museum, Te Mata Toa, is a New Zealand Museum that showcases our nation's military history – telling the stories of Kiwi soldiers and exploring our participation in major conflicts worldwide. Here you can engage with soldier's stories, history and the development of the Army, view personal photos and albums of WWI, and much more.
$10 per person to add this to your booking
2 - Ohakune Adventure and Osteria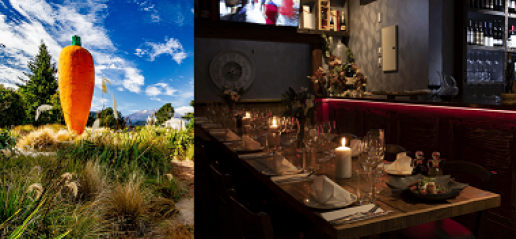 After disembarking and taking a short bus ride into the town centre, you will arrive at Osteria for a buffet style lunch and a refreshment. After lunch, you may go by foot to the Ohakune Adventure Park. At 7.5 metres tall, there is a very large model of the tasty orange vegetable and has been installed in the same spot since 1984. The biggest vegetable in New Zealand was built for a TV commercial for ANZ Bank and then donated to the town. The area is famed for its farms and carrot production.
The famous giant carrot is joined by vegetable friends Crimson King, the Superlative Swede, Sir Lancelot the Brussels sprout, Perla the Potato, and Panorama Parsnip.
After your adventures, you will board the bus to rejoin the train for your return journey home.
$40 per person to add this to your booking
3 - Raurimu Spiral – Stay onboard
Upon completion the NIMT became important to New Zealand's economic development, and was also socially significant. The Raurimu Spiral is considered a feat of engineering ingenuity and the success of this solution contributed to the on-going effectiveness of the NIMT. Despite advances in technology and materials in the century since its completion, no feasible alternative to the Spiral has been found. Therefore, the Raurimu Spiral is a lasting tribute to Holmes' engineering achievements and is of considerable engineering heritage importance.
An Evening Meal
Sandy and the team at the Station Hotel will be on hand to provide an evening meal at your seat on departure from Hunterville.
Being served is a tasty chicken salad main a freshly baked mini baguette, along with a sweet chocolate brownie to cleanse the palate!
Vegans, Vegetarians and Gluten Free options available, and if there are any allergies, please let us know when booking!
$30 per person to add this to your booking
Train Fare Pricing:
Adult Fare ex. Kapiti/Horowhenua & Return - $159.00
Child Fare ex. Kapiti/Horowhenua & Return - $129.00
Adult Fare ex. Palmerston North/Feilding & Return - $99.00
Child Fare ex. Palmerston North/Feilding & Return - $79.00
We can cater for larger group bookings - these are best dealt with directly through us by emailing admin@steaminc.org.nz or contacting 0800 783 264.
Book this adventure now!
Book online or call us on 0800 783 264
---