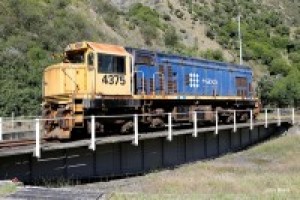 We are very pleased to announce that we have been successful in purchasing heritage diesel locomotive Dc4375 from KiwiRail.
Steam Incorporated have been considering adding a DC to our heritage fleet of EMD locomotives for several years. Eventually we were able to purchase DC 4375 from KiwiRail. The loco was delivered to our Paekakariki site on 1st April 2021. It joins our small fleet of DA locomotives which are also General Motors EMD products. DA1410 and DA1431 which are in main line service and DA1471 under restoration.
DC4375 started life over fifty years ago as G12 DA1540 built by General Motors Canada.
In 1979 it was rebuilt by Clyde Engineering in South Australia to an EMD G22AR classification emerging as DC 4375. Now with a 645 engine it saw many years hauling freight and passenger trains for NZ Rail. It ended its Kiwi Rail working life hauling Auckland suburban trains.
Now that we have saved the locomotive for future preserevation and rescued it from potential scrapping we are now desperately seeking additional donations to help fund the purchase payment. We have set up a Givealittle Page to assist with making donations. Donate here (external link)(external link) We would really value your support.